Kielder Run Bike Run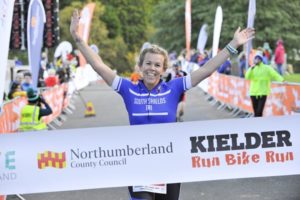 What a fantastic race weekend in the forest and brilliant efforts from everyone who took part.
It was an early morning start and a longish drive along a rollercoaster type road to the destination, We met up with a few nervous folks and had a coffee to calm nerves, Along we pooped to the registration and marked ourselves as present and stood in the queue to rack our bikes, at this point nerves up and down but spirits very high and a lot of laughter amongst everyone which is absolutely brilliant to see. Once bikes were racked we headed towards the bus which transported everyone to the start line, we got off the bus and headed towards the bag drop tent were we were met by alot of people from all different clubs etc who were there to partake in the Run-Bike-Run or the 10K, we met with our fellow members and started to prepare for an afternoon of racing.
Start time was getting closer so we headed to the start line still very much excited and nervous, we wished each other well and good luck and bang off goes the klaxon and the rest as they say is history.
On completion of the race we were greeted by rather good news of  how well Team Shields had done and what solid performances were put in by everyone. results were as follows…
South Shields Tri along side South Shields Velo and NE31 Tri club completely dominated Northumberland Kielder weekend.
With outstanding performances from our 3 relay teams and individuals.
South Shields team 1 consisted of Paul Stewart, Paul Tyrell, Daniel Josephs, took 1st place and broke the course record. Paul Tyrell fastest ever around the bike route.
South Shields team 2 consisted of Gavin Mulvaney , Dan O'Callaghan, Jeff McGurty followed closely with 2nd place.
The Ladies team took 7th overall and first ladies relay team across the line the team consisted of Laura Warburton, Karen Wood and Katherine Stewart.
Our Individuals did not disappoint aswell as we had a fantastic result from Shields Tri's very own Claire O'Callaghan who took first place lady ( done very well considering she was a bag of nerves at the start).
Dan Cooke also had an extremely good race 19th overall –  PB of 6mins, very good day at the office for Dan.
Lee Hetherington, Lorraine Hetherington, Christopher Hetherington and Grant Bezuidenhout all crossed the line together with smiles on their faces after a good day.
In the 10K which started 5 mins after the Run – Bike -Run there was also a lot of top efforts from Team Shields with Rachel Breheny took 3rd female with a great run followed by brilliant performances from everyone else.
To say it was a good day is an understatement as it was brilliant to see the team support from start to finish, Great to be apart of such a great team.
Full stories and links below;
Instagram – South Shields Harriers